---

Newspaper work

The Guardian, UK
Political cartoons (2002-03)


Pre-exile work for major New York newspapers

The New York Times (front-page art for Week-in-Review and Business sections; spots for Sunday Sports, 1988-2000)

Newsday (several hundred illustrations for Viewpoints and editorial pages, book reviews, and Newsday Sunday Magazine, 1980-2001.)

Daily News (book review illustrations, 1990s.)

The Wall Street Journal (several hundred caricatures for Leisure & Arts page, "hedcuts" for news pages, and political cartoons for Classroom editions, 1983-2000)

book publishers
Random House
Macmillan
William Morrow
HarperCollins
Doubleday
Schenkman Books
Writers & Readers
magazines
AdWeek
Esquire
Ladies Home Journal
Library Journal

American Banker
Wired ("netmoguls" caricatures)
Marvel comics
Dow-Jones business magazine
ad agencies
DDB Needham

AC+R

DMB+B

Y+R Kirschenbaum+Bond

Grey Advertising
corporations
ExxonMobil
(executive portraits)

MetLife
(executive portraits, general illustration)

ITT Hartford
(brochure illustrations)

RJR Nabisco
(executive caricatures)

North Fork Bank
(annual report illustrations)

The Donahue Show
(Phil Donahue's Christmas Card design)

Tony Robbins, Inc
(Tony Robbins' 40th Birthday Party invitations)

Society of Newspaper Design
(9th Annual, Silver Award. Highest award for any American newspaper illustration for the year.)

Society of Illustrators
(26th and 32nd Annuals)

Exhibit 22nd - 28th June 2003
St. Martin's Gallery, June 2003
The Crypt, St. Martins-in-the-Fields, Trafalgar Square, London

Royal Society of Portrait Painters
(2002 Annual Juried Exhibition at the Mall Galleries, London)

Panelist-exhibitor, Institute of Ideas' Satire Week, Greenwich Theatre, 2002

Solo show at Poetry Society's café gallery, Covent Garden, 2001

Society of Illustrators, New York, 26th and 32nd Annuals.

Original art exhibited at New York Newsday editorial offices, Dow-Jones corporate offices, and various solo and group shows on Long Island.

Original art purchased for private collections of many notable caricature subjects, including Andrew Anker, Kevin Costner, Jack Schwartz, Sir Martin Sorrell, Teresa Stratas, Kurt Vonnegut

Murals in the Hampton Arts Theatre lobby, Westhampton NY.

Artwork for long-term exhibits at Smithsonian's Postal Museum in Washington, and Missouri Botanical Gardens in St. Louis.

A Guide to Drawing by Mendelowitz et al, 4th and 5th editions (the standard university-level art history textbook on drawing)

This Face You Got (coffee-table hardcover caricature anthology)

Illustration Directories:
RSVP (1986 to present)
Black Book Illustration
American Showcase 11
Graphic Artists Guild illustration directory
Graphic Artists Guild (UAW Local 3030), past member of New York board.

National Cartoonists Society (USA), member since 1990.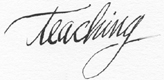 Barnet College, November 2002 - present (faculty).

British Museum: "The Big Draw", October 2002.

Has given private lessons since 1966.

Visiting art teacher in collaborations with poet/writer Eva Salzman, at schools in greater London and at the Bromley-by-Bow Community Centre.

Visiting artist at schools on Long Island.

Led a seminar on political cartooning at New York's historic Fraunces Tavern.

Taught art at Friends World College.

Community organiser dealing with ecology, economics and community planning; speaker in schools, universities, and televised debates. Hosted a radio talk show, founded and edited community newspapers, organised a benefits program for a farm workers, ran as a Green Party candidate for New York State Legislature in 2000, and is currently writing and illustrating a book on the politics of ecology. He is married to Eva Salzman and has two adult sons.

Studied drawing, painting and sculpture at Boston University School of Fine Art, Art Students League, and New York Studio school. Teachers included Philip Guston, George MacNeil, Mercedes Matter, Leland Bell, Jacob Lawrence, Richard Yarde, Morton Sacks, Conger Metcalfe and Pete Klotz.

Van Howell
68 Fairfax Road, London N8 0NG
(020) 8340-6126
email: vanhowell@writersartists.net
---
Read reviews of Van Howell's work
or
View Van Howell's on-line exhibit
of
---